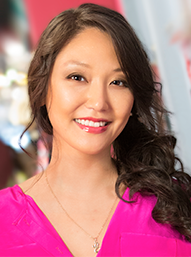 MICHELLE PARK – CO-FOUNDER
Michelle Park is a lifestyle and fashion expert, traveling the nation and appearing on numerous outlets including Good Morning America, FOX & Friends, ABC, CBS, FOX, NBC, CW, NY1, Better TV, Mirror/Mirror. She is a regular beauty and health expert on the Steve Harvey Show. She has been seen in media markets across America.
Park was previously the co-host of Please Dress Accordingly on MSG Networks. She has been following trends on the runway for years. Prior to landing her own show, Park spent 5 years at NY1 News as an anchor/reporter, covering NY Fashion Week every season. She has sat front row and interviewed tons of big name designers including Carolina Herrera, Naeem Khan, Vivienne Tam, Anna Sui, Rebecca Minkoff to name a few. She also helped with entertainment coverage for the channel, landing the first exclusive interview in New York City with famed popstar PSY of Gangnam Style.
During her tenure, Park covered everything from fashion to food to sports. She was a mainstay at the biggest New York City lifestyle events from the Tribeca Film Festival to New York Wine and Food Festival; additionally voicing her discerning palette through reviews at New York City's top restaurants, bars and nightclubs. She was also on the field covering the excitement of the Derek Jeter's 3000th hit and the NY Giants road to the Superbowl in 2011. Before moving to New York, Park worked as an entertainment reporter in Los Angeles.
In her spare time, she is an adjunct professor in the media studies department at Queens College and, of course, enjoys finding new restaurants, whether fine or divey. On a personal note, she dedicates her time to Best Buddies, an organization that helps children with developmental disabilities deal with issues of social inclusion. Park earned both her undergrad and graduate degrees at Stanford University. She also contributes to various outlets, including Wine Enthusiast Magazine, Huffington Post and msn.com on topics of fashion, food and home decor. Find her on twitter at @MichelleWPark
CAROLINE AMES – EDITOR
Caroline is a recent graduate from Rutgers University and is following her lifelong dream of becoming a New York City reporter. At Rutgers University, she majored in journalism and is currently pursuing her masters in broadcast journalism. Growing up, she was told between her incredible raw ability to interact with people and her fantastic writing skills, she was made to become a reporter.
Being a native to NYC and the surrounding areas, Ames knows the ins and outs of the Tri-State area. Having the possibility of following her dream job in her backyard of the Big Apple is really something special to her. Caroline is passionate about beauty and everyday lifestyle needs and wants, however, her other fortes are fitness, health, and sports.
Caroline could not wait to get out into the field of reporting so while attending Rutgers she was a research assistant for Star-Ledger columnist and Pulitzer finalist, Mark DiOnno. While working for DiOnno she helped research, write, and conduct numerous field interviews with the tribe of the Ramapough Indians.
Caroline also interned at Seldon Marketing in NYC where she developed an incredible amount of content for clients' blogs in the medical, legal and business industries. She also created presentations and would deliver pitches to the firm's warm leads.
Presently, Caroline is editing, writing, and assisting Lifestyle and Beauty genius, Michelle Park. Follow Caroline Ames on social media: Instagram: Caroline_Ames and Twitter: CarolineAmes11
PEYTON FLEMING- EDITOR
Peyton is a recent graduate from Auburn University, and decided to move to New York City to peruse her career goals. Peyton majored in Radio Television and Film/ Media Studies and minored in Theatre. She believes that it is a pretty amazing feeling to finally say that she lives in NYC, because for so long it seemed like a distant dream.
Fleming is a very creative person, and couldn't ask for a better city to revel in inspiration.
She has over three years of experience in fashion, and has a knack for all things health and beauty.
Fleming has had a wide range of internship experiences. She was an intern/ production assistant for the film White Water. The film was inspired by a true story, and was set in 1963 segregated Opelika, Alabama.
Fleming was also an intern for an entertainment and production company in New York. She spent 6 months with the company learning the event planning side of the business.
She also designed the company's podcast logo, and was asked to be a part of a millennial discussion panel at one of the company's events.
Currently, Peyton is writing and assisting Lifestyle and Beauty expert Michelle Park.
Writing is a creative outlet for Fleming, and she hopes to make a career of it one day.
Follow her on social media: Instagram PeytonFleming & Twitter @peyflem